Spring Fair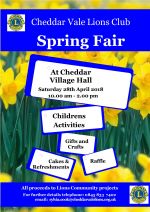 Cheddar Vale Lions are introducing a new event for 2018 (see poster). We are selling spaces to Crafts/Gifts people and already have lots of interest from launching on Facebook. As spaces are confirmed we will issue more details.
Included will be a Childrens' activity area with games, face painting and the main attraction, a chance to handle Exotic creatures such as Reptiles and Owls.
The event will be in the Village Hall, Church Street, on 28 April 2018 and will open to the public at 10:00. Please support our event as all monies raised will go towards our work in the local community.
We hope to see you there. If you would like to enquire about booking a space, please contact us through our "Contact Us" form on this website.