Tree of Light - 7 DECEMBER 2017 Cheddar Garden Centre
All money raised together with Gift Aid from HMRC is presented to projects and youth groups within Cheddar and surrounding villages with no administration costs taken out. This will assist those in our community at greatest need. DOWNLOAD FORM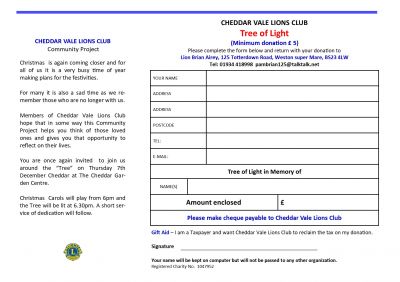 For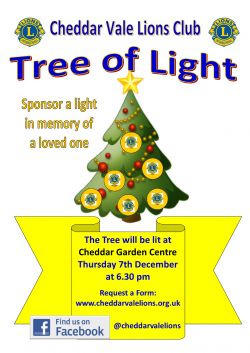 the second year running in 2016 the Tree of Light was sighted at the Bath Arms with the kind permission of Sean and Jackie with Cheddar Parish Council providing the Tree. The Club are extremely grateful to Sean and Jacqui who welcomed the project onto their premises and brought the Tree of Light into the heart of the village.
In 2012 the project was first hosted by Cheddar Garden Centre, now part of the Garden Centre Group and without their initial enthusiasm and continued support for the project in the early days we would not have got it off the ground. Now, in 2017, the project is returning to Cheddar Garden Centre. Cheddar Vale Lions Club would like to thank Cheddar Garden Centre especially all the staff who continue to be supportive of the project.
In 2016, the Dedication Service was taken by the Rev Stuart Burns supported by Cheddar Valley Voices and Cheddar Valley Brass accompanying the carols and providing additional music on the evening. We hope you will all continue to support this project and join us again this year as we remember those who are no longer with us.
If you need help to buy equipment etc for your local group please use the 'Contact us' facility at the top of this page and give a brief outline of why you need funding.
All requests for funding from the sponsorship money raised from the Tree of Light will be considered in the New Year.